Our Mission
The Think Earth mission is to help communities create and maintain a sustainable environment through education. We seek, initiate, and oversee environmental projects and partnerships among stakeholders from the business, education, government, and public sectors. These partnerships result in tangible ways for people to Think Earth, that is, for people to:
conserve natural resources (e.g., water, energy, habitat)
reduce waste (e.g., recycle, repair, and reuse products)
minimize pollution (e.g., air, water, land)
Think Earth Current Projects
The Foundation manages both national and local projects that support our mission.
National Projects
We are currently updating and revising our Think Earth Environmental Education units and adapting our environmental lesson plans to an interactive online format so that teachers everywhere can access the units directly. Teaching environmental science in primary schools can be difficult- but not with Think Earth's comprehensive lesson plans.
Think Earth Environmental Surveys
Two interactive surveys allow students—and others—to assess and improve their environmental behaviors and conditions at school and at home.

Local Projects: Southern California
A Southern California partnership provides field trips on a Floating Lab in Los Angeles and Long Beach Harbors where students participate in marine science learning activities.
Think Earth, It's Magic! Assembly Program
In an environmental magic show, elementary school students in Southern California are entertained while being introduced to the Think Earth themes, which they also learn about in the Think Earth curriculum units distributed to their teachers.
History
The Think Earth Foundation originated in 1988 when a consortium of 14 private and public entities in Southern California came together to discuss the need for environmental education in the schools. The group decided to underwrite the development and distribution of an environmental education curriculum. Our goal was to reach thousands of teachers and to educate millions of students to help produce new generations of environmentally aware and concerned citizens.
To achieve that goal, we developed the Think Earth Environmental Education Curriculum—a comprehensive, behavior-based curriculum with nine separate instructional units for each grade level from preschool through middle school.
In 1995, the Think Earth consortium organized into a 501(c)3 nonprofit organization—the Think Earth Foundation. Since that time, we have printed and packaged the curriculum units and have distributed them free to more than 70,000 teachers and their 2 million students.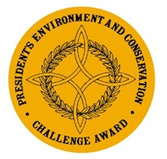 Awards
President's Environment and Conservation Challenge Award, from the White House
Excellence Award for Curricula, from the Solid Waste Association of North America
Clean Air Award for Excellence in Public Education, from South Coast Air Quality Management District
Environmental Pride Award, from Los Angeles Magazine
Award for Water Education, from the Los Angeles Regional Water Quality Control Board
Award of Excellence, from Partnerships in Education Journal, National Partnerships Award
Best External Communication Award for "Air Care 101" video, from International Television Associations Awards in Media Excellence
Governor's Environmental and Economic Leadership Award in the Children's Environmental Education category, from the State of California