Waste Invaders Fourth Grade Mini-Unit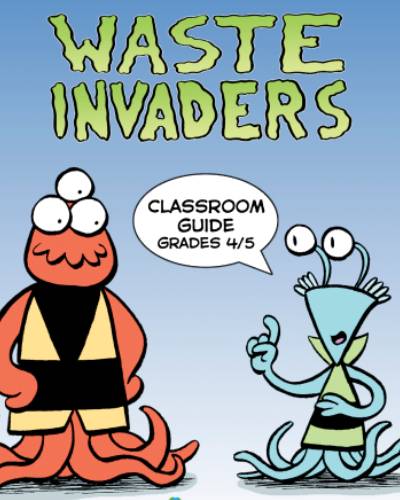 The Waste Invaders mini-unit focuses on reducing solid and liquid waste. Students learn where our trash and wastewater come from, where they go, and how to reduce the amount of solid waste and wastewater we produce.
The mini-unit includes two 8-page, full-color comics and a classroom guide.
Waste Invaders Part 1 covers how humans:
use natural resources
create a lot of waste
handle their waste with disposal systems
Waste Invaders Part 2 addresses
the problems of creating so much waste
some possible solutions
How to Teach Waste Invaders
Download the two Waste Invaders Comics and the Classroom Guide.
Read the comics with students. You can print or project the comics or have students view them on computers or tablets.
Use the discussion questions in the Classroom Guide to reinforce and extend student understanding.
Teach follow-up activities from the Classroom Guide as time allows.
Waste Invaders Fourth Grade Mini-Unit Materials
Register or login to access the materials below.
PDFs
Waste Invaders Classroom Guide

Waste Invaders Part 1

Waste Invaders Part 2