Think Earth Kindergarten Unit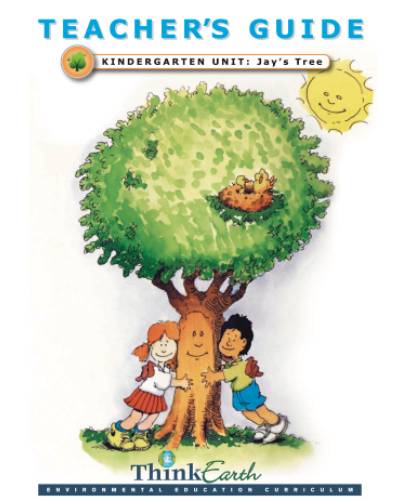 Jay's Tree focuses on conserving trees and other resources. Students learn that trees provide us with many benefits and learn the importance of using only the paper, water, and electricity that they need.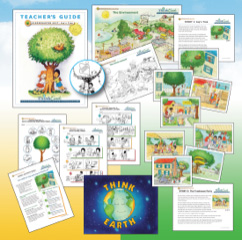 In the Kindergarten unit, students are introduced to:
what the natural environment is
how we use trees from the natural environment
why we shouldn't waste paper and litter the environment
what we can do to conserve paper and keep the environment clean.
How to Teach Think Earth
Download all the materials onto your computer OR use them directly from the website.
The Teacher's Guide contains links to all the materials, so if using the Guide online, you can access the materials directly as you are teaching.
The Posters and Practice Exercises can be used in any of the following ways:
Project pages directly from a computer with a projector or smartboard.
Print pages and display them with a document camera.
Load pages onto students' tablets or computers.
Print and distribute pages to students.
The Videos and Songs can be used in any of the following ways:
Stream from this page to project video and play audio.
Download the files and play from your computer.
Load the files onto students' tablets or computers, or provide links for streaming.
Think Earth Kindergarten Unit Materials
Register or login to access the materials below.
PDFs
Kindergarten Teacher's Guide

The Environment Color Poster

The Environment Black and White Poster

Practice Exercise 1

Practice Exercise 2

Family Activity Sheet

Hanging Badge

Jay's Tree Story Cards

The Treehouse Party Story Cards

Think Earth Poster
Videos
Think Earth Narrated

Think Earth Narrated (CC)

Think Earth Unnarrated

Story: Jay's Tree

Story: Jay's Tree (Closed Captions)

Story: The Treehouse Party

Story: The Treehouse Party (CC)
Songs
Think Earth Vocal

Think Earth Instrumental
Curriculum Resources
Standards Correlations

Summary of Unit Objectives

Literature Recommendations
Download All Unit Materials
Hi-res (zip, ~150mb)

Low-res (zip, ~80mb)

Think Earth Videos (zip, ~103mb)