Celebrating 30 Years of Think Earth 
News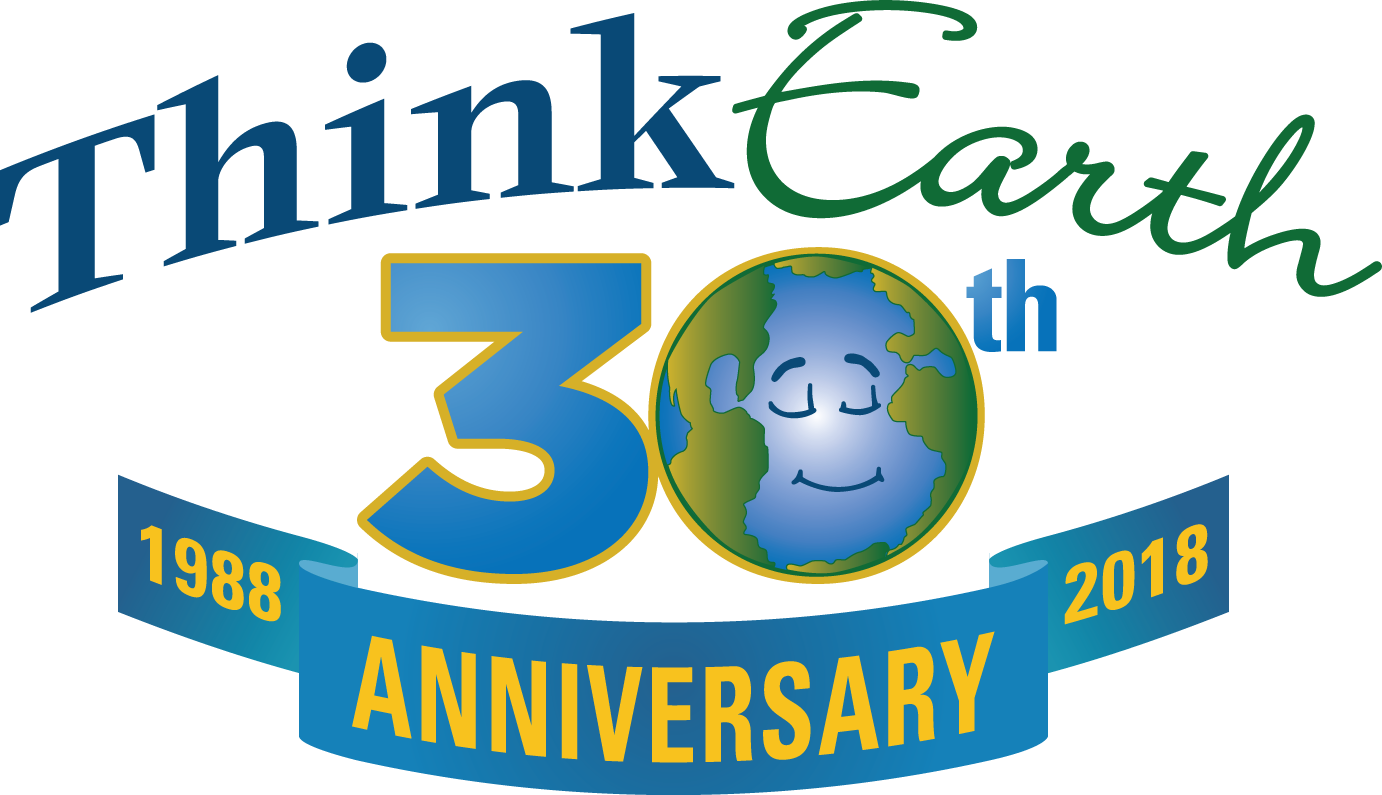 Teaching the power of personal conservation, Think Earth's free environmental curriculum has been used by 60,000+ educators, reaching an estimated 4 million youth in 82 countries.
This year marks the 30th Anniversary of the Think Earth Environmental Educational Foundation, a 501(c)3 organization with its sights set on helping young people throughout the global community become good stewards of the planet. While Think Earth lesson plans have reached millions of students so far, the ultimate mission is to make every class unit available via the Internet to teachers worldwide at no cost.
Dr. Fred Niedermeyer, founder of Educational Development Specialists, Inc. (EDS), initiated the idea for the Think Earth Curriculum in late 1988. "In the 1980s, we were developing educational modules for the energy utilities, which were required to have programs that promoted resource conservation, basic 'turn-off-the-lights' programs," says Niedermeyer. "That mandate went away when the industry was deregulated, but we soon found that local water districts, sanitation agencies, and other entities had a need and a desire to educate their customers, especially the younger generation."
A consortium of 14 local private and public organizations came together to fund development of Think Earth instructional units, creating a common sense, behavior-based environmental curriculum for Southern California schools.
According to Joe Haworth, a founding Think Earth board member from the L.A. County Sanitation Districts, "We wanted school-age kids to be brought up learning 'planetary manners'—conserving resources and recycling waste—and to be mindful of how their daily behaviors impact our ecosystems." Other agencies involved at the start (each initially contributing $25,000) included L.A. City Department of Public Works, L.A. Department of Water & Power, The Gas Company, Metropolitan Water District, South Coast Air Quality Management District, Southern California Edison, Ventura County Air Pollution Control District, and Ventura Regional Sanitation District.
Between 1989 and 1993, Think Earth board members met with EDS dozens of times to develop seven one-to-two-week instructional units for kindergarten through grade 6. "Each Think Earth grade-level unit focuses on a particular topic," explains Kay Ice, the head developer of the Think Earth Curriculum. "But all units teach students about conserving natural resources (water, energy, habitat), reducing waste (recycle, repair, and reuse products), and minimizing pollution (air, water, land)."
In response to the first informational mailing promoting the Think Earth Curriculum to all 3,500 schools across Southern California, 2,500 principals requested and were shipped units. Within a few years, Think Earth units were being taught in 150 school districts across Southern California. Recognizing the simplicity and value of the classroom units, dozens of corporations, philanthropic groups, and other organizations nationwide have become Think Earth sponsors over the ensuing decades, providing funds to help with development and distribution of the units. "In those early years," Niedermeyer states, "a great deal of sponsor funding went to cover hard-costs—printing, packaging, and shipping the materials to teachers."
Ultimately, Think Earth created nine instructional units spanning preschool through middle school. A hit from the start, Think Earth has won a number of awards—including the President's Environment and Conservation Challenge Award presented by President George H. W. Bush at the White House. Other accolades have come from educational journals, the State of California, Los Angeles Regional Water Quality Control Board, the Solid Waste Association of North America, Los Angeles Magazine, and many more.
Expanding Beyond the Classroom
Over the years, the Think Earth Foundation has expanded its education reach with other programs. Think Earth, It's Magic! is an environmental magic show performed at school assemblies. Online Environmental Surveys allow young people in-home and at-school to gauge their level of environmentally-friendly behaviors. And the Think Watershed program provides hands-on marine science field trips.
Celebrating its 10th Anniversary this year, Think Watershed has provided nearly 400 field trips, introducing approximately 20,000 students to the marine habitat in the Los Angeles and Long Beach Harbors. Organized in partnership with the Los Angeles County Office of Education, trips on Think Watershed's Floating Lab allow students to get "up close and personal" with life on and under the sea. The creatures they discover, the water tests they conduct, and the plankton they see under microscopes all drive home the importance of upstream awareness for trash and pollutants that can travel into the ocean from hundreds of communities across the 834 square-mile Los Angeles Basin.
Think Earth Worldwide
While Think Earth conducts ongoing sponsor outreach to fund these programs, its current priority is to raise funds to make the entire curriculum available online for educators around the world to access and use at no cost.
"We have updated our materials over time, but our mission now is to digitize the units and put them all online," Ice states. "Complete units are now available on the Think Earth website for kindergarten, first grade, second grade, and third grade, and the Waste Invaders mini-unit can be used in 4th and 5th grades. But it will take at least $200,000 to revise and publish online the remaining units, plus some funding to thoroughly promote its availability."
As of July 2018, more than 6,000 educators, including 824 from 82 countries outside the U.S., have registered at ThinkEarth.org to access the free lesson plans online. Outreach, occasional articles, Internet searches, and strong word-of-mouth have led to the discovery of the Think Earth Curriculum. Aside from educators in the U.S., the top five nations with teachers downloading instructional units are Canada, Australia, India, England, and Singapore.
Think Earth's 30th Anniversary fundraising campaign will take place over the next 30 months so that public and private sponsors can make funding and sponsorship plans in line with their annual budgets.
"Sponsors come and go according to organizational priorities," says Haworth. "But Think Earth's value is the important thread that connects our sponsors. They recognize that the future of our planet lies in the hands of today's youth as their personal habits and attitudes will impact our global environment."
For more information or to make a tax-free donation to support Think Earth, please visit ThinkEarth.org. Follow @ThinkEarthED on Twitter or find Think Earth on Facebook.